Rules for Renegades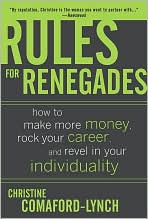 She slept with Bill Gates! It gets one page.
Rules for Renegades is a combination memoir and business how-to by entrepreneur Christine Comaford-Lynch. It differs from the usual get-rich book because of Christine's crazy career path -- runaway teen to model to monk to Microsoft programmer to aspiring geisha to IT consultant to venture capitalist to author.
Rule #1: "Everything's an illusion, so pick one that's empowering."
Truest Biz Rule: "Learn to love networking."
Should've made this line a rule, too: "Forgive the person who has hurt you the most."
Christine and billg: Awwwwwwkward.
The rules may or may not stick with you, but the anecdotes will. When Microsoft announced to a roomful of consultant engineers that they were outsourcing everyone to Volt, a young Christine stood up and offered her own outsourcing service that took less of a cut from everyone's paycheck. Thirty engineers signed up. Ruh roh! She had to figure out how to set up a company, get cash in time for the next payroll cycle, and beat Microsoft's attempt to stonewall her out of business. She did, but many of Christine's so-crazy-it-just-might-work schemes go south. Cardinal rule for renegades: Keep going.